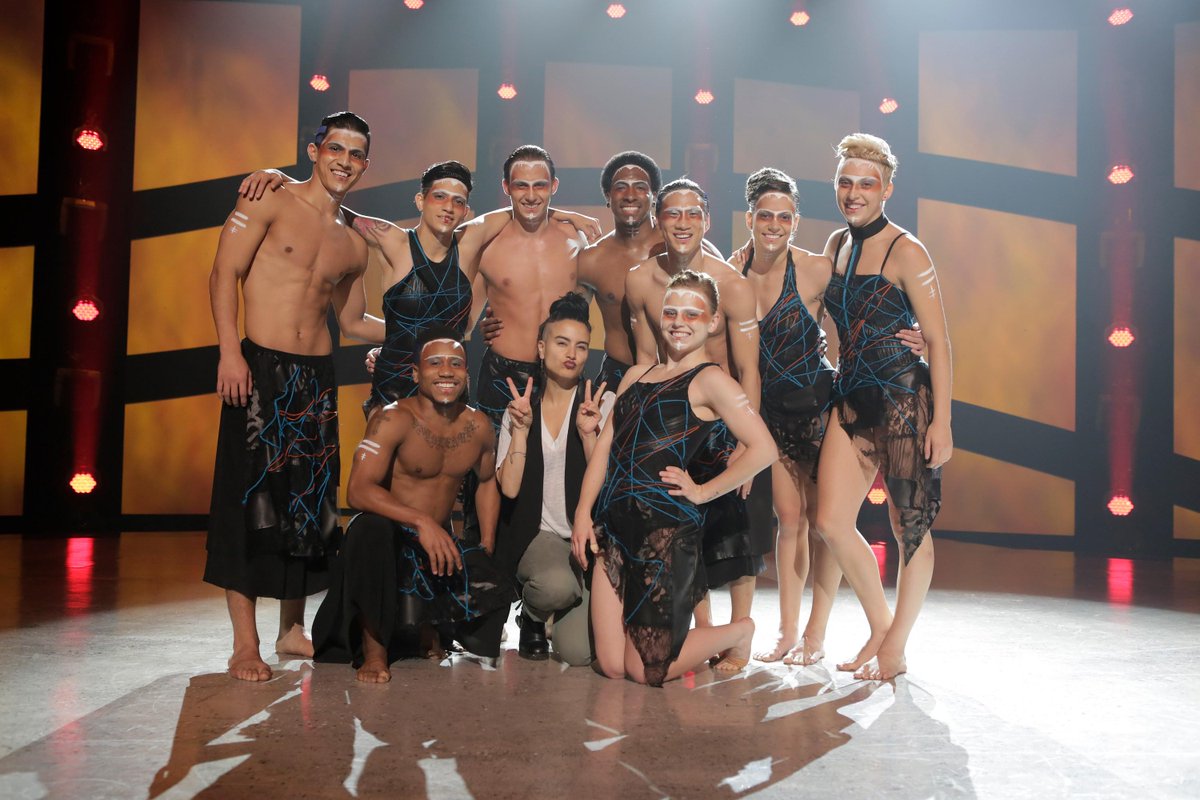 opening performance. Earth Intruders Bjork
Starts out all tribal & maybe even a little African dance-ish Except, I feel a huge @sonyateyeh influence…I cld be wrong. The moves were synchronized & sharp. It separately spotlighted boys & girls, then street vs stage and all the tricks & lifts were  awesome! (I was right about @sonyatayeh)
Ummm…1 dancer from #teamstreet is missing. Where is Jj? She injured her ribs & annoy perform this week. This means she is automatically in NEXT weeks bottom, if she makes it thru this week.  (If you remember, I predicted we wld say Goodbye to Jj & Edson this week…so this doesn't fair well for her. But make me look like I've got it all figured out!)
The dancers were asked to self choreograph songs from the show Empire. Gonna be very interesting, idea.
Tonite is Solo night! I can't wait!
Hailee does Broadway  w @carlylewarren  music It don't mean a thing  by Tony Bennett & Lady Gaga
It's like a tap jazz Broadway routine without tap shoes. It's hard out of the gate but it is to be fun & entertaining! It's fast & ridiculously technical! Can Hailee pull it off? I'm sure she can but let's see…
Hailee's solo: she ridiculously strong & graceful. She made Allstar Brandon look like a competitor. I'm pretty sure she made a cpl missteps toward the end, but I cldnt quite make it out! She is fantastic!  #lizagaga #energetic #star #top8 (prediction #top2)
Hailee solo…shes been dancing her whole life! Her family defines her. She dances to Nothing to Lose…she's not a choreographer but she's a very talented dancer. I felt this solo was all over the place
Derek with Allstar Kayla do Jazz  choreographed by @goldenboyz_inc (Rj  Durell & Nick Florez)
This routine is supposed to be sexy. We should feel the heat & chemistry between them (I think that's a real stretch for Derek) but with AllStar Kayla , she be able to bring enough passion to make it work! #breakthough we shall see…Nope. He's going through the motions. He's going the steps but he's not convincing me he's a rough tough sexy strong angry Man. He's not in charge. He's not the star…at least not for me. #didhisbest I have expected him to be sent home the past 2 weeks, and the only reason I didn't say this week is bc I have no idea what the audience sees! (I wld prefer to see him go over Edson) #bottom2 this week See for yourself
Derek solo: went to Miami at 16 to study dance (w last seasons winner)  (music: Drip Drop from Empire) he ridiculously talented & strong but even during his solo I didn't feel him. I used the whole stage he danced & chorographed beautifully but he's not making a connection…at least not with me.
Jj no solo 😁 no Allstar partner performance. 😩 She's injured.  #bottom2street  like I sd earlier (and last week)…I do expect to see her leave us tonite. Not bc she's not talented…heck no! She's very talented! But the other 8 dancers are more talented. She has an amazing beautiful future ahead of her. Her dreams beyond her belief will come true. I expect to see her on film.
Virgil & Allstar Comfort! + Hip Hop by @chrislxd  #matchmadeinheaven Just my imagination The Temptations (how cool is this…the temptations go hip hop?!)
The story is this New cpl, young lovers have their 1st night in their apartment & Virgil's character is just thrilled & can't believe it…too good to be true. So it should be fun & light, almost juvenile make believe playing house punch drunk love!
They had fun & it's like we are watching them fall in love! It was cool & smooth & difficult. #Flawless #effortless cute adorable #1streetdancer #tinydancer #winnerwinnerchickendinner #top2 #teamvirgil  Dont skip this
Virgils solo: I've told you, I think he can win this bc he has the Audirnce captivated! He is not a technical dancer but he is an emotional dancer. His style is street popping but he's been on Broadway & performs as a lead singer in a jazz band! He's well rounded & his emotional connection just pulls you in…  Solo: Conquer from Empire. He did his best to combine all that he has learned from the technical dancers & choreographer & his personal street style. Personally, I wanted the rest of the crew to join him after his solo & finsh the song. It was strong, smooth, slightly awkward but fantastic!Results: come on! He's safe!
Megz w Allstar Marco do a Jazz routine by Ray Leeper
It's about your reaction when you fav song comes on & you can't help but dance! It shld bring Joy & a smile to your face. They shld be having a ball!
And…they were. Megz was a little in her head about all the technical steps. I cld see it on her face & sometimes she was a little hesitant, but overall She did well. She was a standout on stage. She could be better technically, she cld work on her pointed toes & flexibility but she is who she is! I believe this is her last week…I don't know this routine will save her next week. But she's amazing!    Check it out
Megz's solo I love her! She's so strong & comfortable in get skin but she's embracing her feminine side even more & it fantastic! solo  No Apologies She's #teamstreet unapologetically Not her best performance but she showed us her!
RESULTS: #bottom2street but I predict she will move on #top8
Edson w Allstar @Traviswall   Your day will come
This piece is losing all hope in life & you're thinking you shld just die but you have someone that is pushing you back away from the light of despair. This is a very deep an emotional piece. Edson has to dig deep into himself to find strength he doesn't even know he has. I hope he can be the support, strength & the inspiration for Jaimee the desire to keep fighting! #breakoutperformance #star
And…where did he come from? This Edson is the one I've been waiting to see. You feel his confliction & his power. #crybaby then that moment when they scream their pain away! #cryingharder Now let's talk about Travis & Jaimee they are both flippin BEASTS! I'm blown away by their talent! How blessed are we to be able to be witness to this routine!
Edson stopped cheering bc he was bullied. He coaches competition dance teams.  Solo: I wanna Love you.  He's a great dancer & choreographer…and salesmen! He just pulled off a sexy badboy routine that will get the girlies voting for him…I hope Whoa…watch here
Results: #bottom2stage I wish/hope Edson can make it out of this round but the voting  hasn't been on his side over the past few weeks. (If he makes it…he will definitely make it to #top6!)
Neptune w Allstar Jasmine do Hip hop by Pharside & Phoenix   Milk was a Bad choice Yultron
This routine is when Frankenstein & his bride have a fight. It's supposed to be crazy, mean & hard hitting crump street style stank! You must watch
And…what the what?!!!!! Are you kidding me? This is sick ' amazing I feel the anger the passion the tension the strength. #whatthewhat #top4 for sure but he's creeping up on Virgil! #flawless #proudpapa
Eddie/Neptune solo   Power of Empire #teamstreet He got angry w his movement…it's appropriate for the music but I think he should have shown more diversity or a larger spectrum of dance. However…I liked it!
Results: come on! This guy is moving on & on & on!
Jim w Allstar Jessica do Jazz w @deecasparydya
This piece is about a young man with a ton of internal conflict (hmmm…maybe I'll see what I know is there in this performance!) but there is a beautiful woman that doesn't want him to deal with this alone! On a personal note, the emotions are not all that's holding Jim back during rehearsals…this is going to be amazing, I can tell just from his current struggle. He's avoiding it but He will be set free if he just goes there! #growth #breakthrough #emotional
And…it didn't happen. 😢 it's beautiful but in not feeling it the whole routine. There are moments of perfection but as a whole, I wanted more. #technical #notconnected #judgesagree
Jim solo #teamstage You're so Beautiful. He is a professional Ballerina w the Houston Ballet company but gave it up to audition for #sytycd season 12. He's a beautiful crisp perfect specimen but he hides his emotions inside. You see his pure joy but he needs to share the ugly stuff that makes him strong. He leaps higher than a gazelle. His extensions are incomparable. But he's not this seasons winner. He will be #top4 He will sign with ANY ballet company he chooses & he will have a amazing career! #luckyboy #balletdancer #perfection
Results: #top8 for sure. (I expect him to make to #top4 but his emotional block will be what Hailee used to edge him out!)
Jaja Allstar Alex do Bollywood w  @nakuldevMahajan
Is about a princess that escapes the palace, but runs into a palace guard that stops her. It's a very fast light dance…I sure hope Jaja can polish her moves to make it crisp.
And..SHE ROCKED IT! It was sexy & light fun & beautiful #whatteamareyouon #amazing #star #czechgirlnomore #princessofdance #chameleon Watch it
Jaja solo.    Keep it Movin' from Empire the soundtrack. What can is say…She can do no wrong! Hard hitting, feminine beautiful strong mean #stankface #perfect  #top8 for sure, prediction #top4
Gaby w Allstar Joshua do HipHop Pharside & Phoenix @
The geisha girl meets a warrior Ninja…but don't be too sure who wld win that fight. #swaggirl
And…whoa. This tapper just killed it! She's a dancer not just a rapper! #proud Those lifts were so sexy and just on the edge of not appropriate. #whatthewhat #geishagirlgonewild #twerkit #creative
Gaby solo #teamstage Tapper! Can't truss'em #ilovethisgirl  She was mean & strong. Her tap was syncopated perfectly with the beat!
Results: she's going on & on. Next week won't be an issue either. Then it gets tricky
#bottom4  Goodbye: Jj & Edson (prediction & reality)
#top8 #teamstreet Virgil Neptune Jaja Megz. #teamstage Hailee Jim Gaby Derek
I do expect them to fall in his order…unless something awful happens…injury sickness really bad night.